Societe Generale Graduate Jobs & Internships
Founded in 1864 to support the development of trade and industry, Societe Generale is one of the leading financial services groups in Europe. Based on a diversified universal banking model, financial solidity with a strategy of sustainable growth, and aims to be the reference for relationship banking, recognized on its markets, close to clients, chosen for the quality and commitment of its teams.
Generalist
All Disciplines
Hires applicants with degrees in
Data Science and Analytics
Design and User Experience
Engineering Aerospace Aeronautical
Engineering Chemical Processing
Engineering Civil Structural
Engineering Environmental
Fast Moving Consumer Goods
Health Policy and Administration
Hospitality Sports and Tourism
Logistics and Supply Chain
Medical and Biomedical Science
Pharmacy and Pharmacology
Physio and Occupational Therapy
Psychology and Counselling
Radiography and Medical Imaging
The Campus Recruitment team looks after the end to end recruitment process for Interns, Trainees and Graduate Analysts in Hong Kong, as well as French International Internship Programme (VIE) for the Asia Pacific Region.
Past Societe Generale Graduate Hiring Statistics
If you're interested in working at Societe Generale, understanding when they have opened up applications for their graduate programs, graduate jobs and internships is helpful knowledge to have so you know when you might need to apply. Use the below information to see when Societe Generale hires graduates, but more importantly what graduate degree's and other student attributes they target for their jobs.
---
Job types
Graduate Jobs (97%),

Internships (3%),
Disciplines
Accounting (100%),

Actuary (100%),

Administration (100%),

Agriculture (100%),

Architecture (100%),
Work rights
Hong Kong Citizen (98%),

Hong Kong Permanent Resident (98%),

Hong Kong Student Visa (62%),

Hong Kong Work Permit (62%),

Other (43%),
About Societe Generale
Societe Generale
---
Societe Generale's first presence in Asia dates back from the 19th century. Today, we have offices in 12 locations across Asia Pacific: Australia, China, Hong Kong, India, Indonesia, Japan, Korea, Malaysia, Singapore, Taiwan, Thailand and Vietnam.
With our regional headquarters in Hong Kong – a core hub of the worldwide Societe Generale Group – we employ over 9,000* employees in the region. Our expertise here ranges from corporate and investment banking to asset management, securities services, global transaction banking and specialised financial services.
The world only moves, because you make it move.
Building Your Career Together
Societe Generale
---
At Societe Generale we build careers together. In a fast-changing, diverse and international workplace full of opportunities we help you to fulfil yourself professionally by providing advanced tools and programmes to support your development, as well as a supportive culture and mind-set to help you to grow and excel.
Our activities in Asia Pacific are centred on Corporate & Investment Banking (Advisory, Financing and Global Markets), Asset Management, Securities Services, Global Transaction Banking and specialised financial services.
For candidates with a non-financial background, we offer career opportunities in a diverse range of roles and positions in expert-areas like IT, Legal & Compliance, Operations and more.
To know more about us, please click here.
Diversity & Inclusion

Societe Generale
---
At Societe Generale we aim to be a diverse workforce in an inclusive workplace with opportunity for the talents of all to create value, deliver an outstanding client experience and develop innovative solutions.
With strong support from senior management, we encourage a culture of openness and respect for all employees, and maintain an active dialogue at all levels to promote this culture.
Our diversity initiatives are carried out in a structured manner with an established Diversity Council which supports four employee-led diversity networks in the Asia-Pacific region. Based on our needs in the region, the networks focus on areas related to gender, culture, differently-abled and LGBT+. With the direction from the Council and Human Resources, the employee networks conceptualize and implement actions related to the enhancement of a diverse and inclusive culture in Societe Generale.
Promoting diversity within our teams
We see the diversity of our teams as an essential driver of engagement and performance vis a vis our clients, employees and the company. With focus on actions related to the four diversity and inclusions networks as stated above, we have made steady progress in terms of awareness amongst employees and specific actions to make Societe Generale an inclusive place for all employees.
Building team spirit together
Staff involvement has been salient in the progression of diversity & inclusion initiatives. We have been organizing several initiatives to raise the awareness of diversity & inclusion in the workplace. These initiatives have taken place in the form of training for employees, breakfast and lunch talks by internal and external speakers, participation in industry events and seminars, celebrating occasions or partnering with other financial institutions and companies to further promote a specific cause.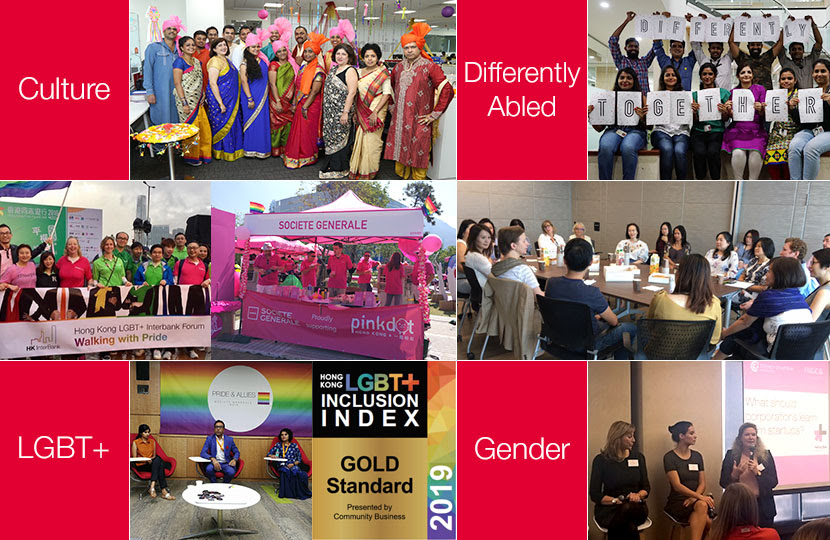 Diversity in Action
In 2016, Societe Generale signed the Women's Empowerment Principles under the United Nations Global Compact and the Global Business and Disability Charter of the International Labour Organization, demonstrating our determination to promote diversity within the workplace and in the community.
Societe Generale is also a signatory to the UN's anti-LGBTI discrimination standards of conduct for business on 26 June 2018 in São Paulo. For the Bank, this means incorporating Lesbian, Gay, Bisexual, Transgender and Intersex (LGBTI) matters into its overall anti-discrimination and diversity policy. It also means aiming to overcome bias and establishing an inclusive culture with respect for human rights.
In 2019, after having listened to feedback from employees, Societe Generale has also enhanced its family-friendly policies in Asia Pacific for our staff's work-life balance and our commitment to diversity & inclusion. The following minimum standards were set across Asia Pacific:
Maternity leave at 20 weeks
Paternity and partner leave at 15 working days which applies to non-child bearing mother in a same-sex relationship
Adoption and child surrogacy leave is available to employees who become surrogate parents, whatever their gender and entitlements are aligned on Maternity and Paternity and partner leave.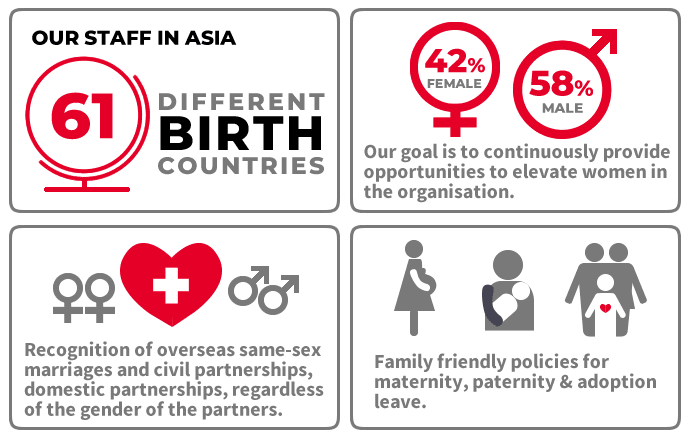 LGBT+ Initiatives

Societe Generale
---
At Societe Generale we aim to be a diverse workforce in an inclusive workplace. We encourage a culture of openness and respect for all employees and maintain an active dialogue at all levels to promote this culture. Our diversity initiatives in the Asia-Pacific region focus on areas related to gender, culture, differently-abled and LGBT+.
LGBT+ specific actions
Employee Benefits and HR Policies
Equal Opportunities Policy with detailed LGBT+ anti-discrimination provisions
Recognition of overseas same-sex marriages and civil partnerships, of domestic partnerships of the same sex and of rainbow families (families consisting same sex parents with with dependent children)
Paternity and Partner leave is available to the non-child bearing mother in a same-sex relationship
Adoption and Child Surrogacy leave available to all parents, regardless of their gender.
Subsidised sexual health check-ups and vaccinations: hepatitis A and B or HPV
Medical insurances cover for HIV/AIDS including as a pre-existing condition
Significant contribution by one of Societe Generale's medical insurers in Hong Kong to gender transition, including surgery
Gender neutral restrooms on each office floor in Hong Kong
Advocacy of Public Policies
Adoption of the UN's anti-LGBTI discrimination standards of conduct for business
Signatory of the Equal Opportunities Commission / Chinese University statement calling for the introduction of LGBT+ anti-discrimination legislation in Hong Kong
One of the 12 original financial institutions supporting the QT case through the Hong Kong Court of Appeal and Court of Final Appeal
Member of the Hong Kong Interbank Forum
Community Affairs and Staff Engagement
Participation in events including Pink Dot, Pride Parade, Queer Straight Alliance's Inclusion recruitment conference in Hong Kong
Participation in the Community Business LGBT+ index (bronze in 2017 and gold in 2019 with a recognition award for our "most improved" index participant status)
Talks and trainings for staff and managers on LGBT+ subjects such as coming-out, the business case for LGBT+ equality or the landscape of LGBT+ rights in Asia
Establishment of a LGBT+ Allies community within the company
Graduate Programme
Societe Generale
---
Looking for an opportunity to kick off your dream career?
Permanent position with rotation and development
Final year students, recent graduates of a Bachelor or Master degree
Graduate Programme is a two-year elite programme with the aim to build solid foundations for your future growth and development, and give you a chance to contribute to the development and success of the bank. After successful completion of the programme, you will be on track for more responsibilities and career growth opportunities. You will be promoted and will be integrated into one specific team within the bank which corresponds the best with your profile.
Click here to learn more.
Trainee Programme
Societe Generale
---
Looking to develop your career?
12 months
Recent graduates with a Bachelor or Master degree
Trainee opportunities are available throughout the year across all areas. We offer you the possibility to gain in depth knowledge and exposure within an identified department. Trainees are part of our GeneratioNext programme, in which you will benefit from an induction, networking events, discovery sessions such as "lunch and learns" and career advisory support. Should you be successful as a Trainee, you may receive an offer to join Societe Generale on a permanent contract.
Discover here all open Trainee positions in Hong Kong.
Internship Programme
Societe Generale
---
Looking to jump start your career?
1 – 3 months
Students currently studying towards a Bachelor or Master degree
We offer internship opportunities during which you will gain exposure and discover the Corporate and Investment Banking environment as a start to your career growth. Summer and winter internship opportunities are available in all of our business lines and support functions. We look for students who we can invest in for future trainee opportunities once they graduate.
Discover here all open Intern positions in Hong Kong.