Neo Derm Graduate Programs and Jobs
Established in 1997 and headquartered in Hong Kong, Neo Derm is a leading medical aesthetic enterprise operating over 28 medical beauty centres and 8 concept stores in prime business locations across Hong Kong and China with 1000+ employees.

As an innovative pioneer in the industry riding on the waves of Big Data & AI, Neo Derm has proactively adopted flexible business strategies in developing comprehensive systems and applications to explore opportunities for a sustainable business growth.
Neo Derm currently has 0 opportunities.
Select the following options:
Since our inception in 1997, Neo Derm has strived to create endless possibilities for women's beauty. With extraordinary vision and commitment, as well as a relentless pursuit of service quality, we are able to create a bright future for our staff, customers and the general community by building on our present achievements.
Neo Derm's uncompromising dedication to the quality of its products and services, coupled with its pursuit of superior corporate cultures, management systems and strategies have led to a constant improvement of its service quality. Its outstanding achievement was honoured in 2008 by the HKMA Quality Award - Gold Award, as the company became the first beauty group to be given this award by the Hong Kong Management Association. In particular, Neo Derm's applications of BSC (Balance Scorecard), key performance indicators (Key Performance Indicator) and Six Sigma, as well as an excellent customer satisfaction assessment system help it to achieve world-class professional standards.


The Future Leaders Development Programme (FLDP)
Neo Derm
---
Company culture starts with leadership. At Neo Derm, we offer Graduate Trainee program to equip future leaders with hands-on work experience, real-life scenarios and challenges and friendships that last a lifetime. We are committed to developing and nurturing our next generation game changers for the medical aesthetic industry to take our community to the next level.
The Future Leaders Development Programme (FLDP) is a two-year programme aimed to provide young graduates a professional job opportunity in a fast growing and dynamic beauty industry. You will be equipped with the business knowledge and leadership skills that will enable you to progress towards leadership roles. Through job rotation, on-the-job training and mentoring support from senior management, the learning experience will prepare you for a promising career within the Group.
YEAR 1 (HONG KONG)
Rotation in 5 business functions in Hong Kong (Data Analytics; Product Management; Platform Marketing; Brand & Product Marketing; Operations)
Understanding of business fundamentals and corporate culture
On the job Training, Study Sponsorship, project assignments, shadowing leaders and buddying experienced colleagues
Technical and leadership skills development, regular feedback, mentoring and executive coaching support throughout your career at Neo Derm


YEAR 2 (OVERSEAS)
Initial 6-month attachment to selected business functions in China
Understanding of the Neo Derm China business
On-going assignments and professional development support
Return to Hong Kong for job placement
Project Support Internship
Neo Derm
---
This is an exciting internship for students / fresh graduates who are passionate about joining a leading and fast-moving beauty company in Hong Kong. Through this internship programme, we will help you expand your business knowledge and skills through project involvements. Successful interns will have the opportunity to be offered a position in the Neo Derm management trainee programme.
Depending on job attachment, your responsibilities can include:
Developing creative solutions to improve business processes
Providing professional services to our customers
Identifying, investigating and resolving customer issues
Conducting data analysis on project's performance and present insights to the management
Designing and developing internal operating management or information systems
Handling ad-hoc assignments as assigned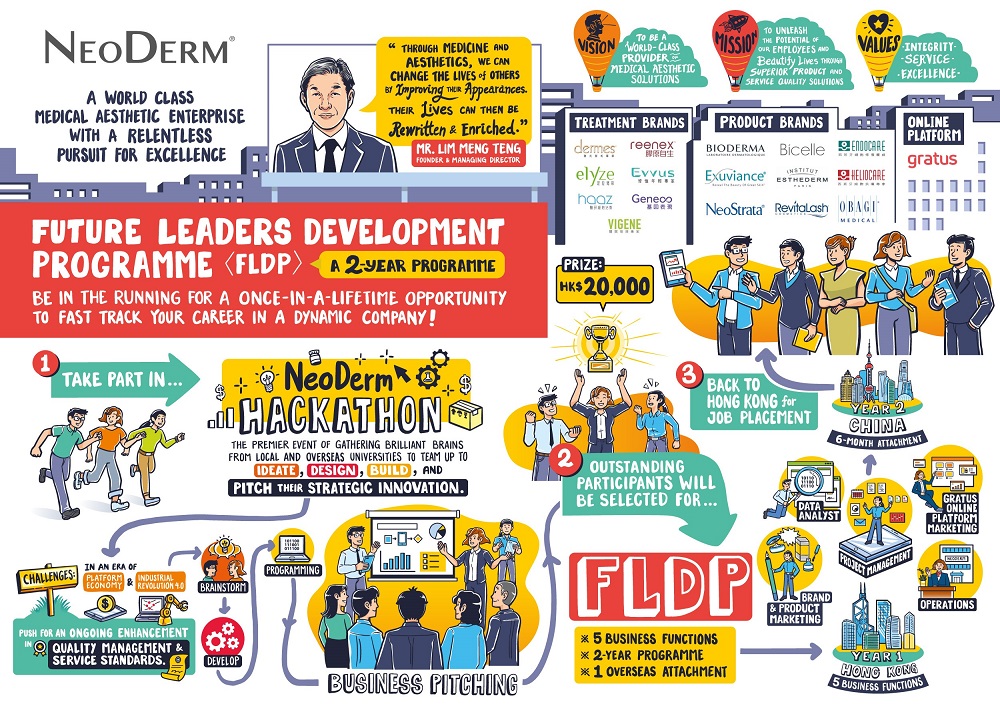 Making the World a Better Place
Neo Derm
---
Love and beauty makes the perfect smile. Neo Derm looks to give love to the society by changing lives and giving hope.
Since 2011, in addition to offering an unparalleled medical aesthetic experience to its customers, Neo Derm has worked with Beam International Foundation (formerly called the "Operation Smile China Medical Mission Limited"), to spread love and beautify lives by giving free surgery and treatment to children with cleft lips or palates so they can smile and live a beautiful life.
With over 20 medical aesthetic centres in Hong Kong and China, Neo Derm's corporate philosophy has always stemmed from the heart. By participating in different charitable activities, Neo Derm assures responsibility as a good corporate citizen. Since 2007, Neo Derm's effort has been recognised by the Hong Kong Council of Social Service and we have been named a "Caring Company" for 11 consecutive years, for our effort in building a loving society.
Clear Vision
Our training program helps our staff setting sights on career goals to move up the corporate ladder.
Sustainable Growth
We provide on-the-job training crucial for your success with Neo Derm. It will help you acquire forward-looking insights into the industry.
Diversified Exposure
Fast expansion of Neo Derm implies exciting exposure for you to diverse roles and locations, in which outstanding skills will be built