L'ORÉAL Graduate Programs & Internships
The world leader in beauty, L'Oréal is present in 162 countries on five continents. Our 35 international brands include Kiehl's, Lancôme, Giorgio Armani Beauty, Yves Saint Laurent Beauté, Ralph Lauren, Maybelline New York, Kérastase, Biotherm, Shu Uemura, Viktor&Rolf, Maison Martin Margiela, Urban Decay, Vichy, La Roche-Posay, Diesel, L'Oréal Paris, and more.
Beauty is our DNA. From the very first hair dye L'Oréal pr…
View more
To apply, submit your CV online and include a two-minute video in English that addresses the questions below:  
Why L'Oreal? 


What would you like to accomplish in three years at L'Oreal? 


"If you can dream it, you can achieve it" - what's one dream you have turned in to reality? L'ORÉAL has no active opportunities at the moment.
See who's currently hiring with our Job Search!
Search for jobs
In 1909, a young chemist created and sold a hair dye to Parisian hairdressers and the company that would become L'Oreal was born. Since then, for more than 110 years, we have devoted ourselves to beauty. Today, we lead the way in beauty and beauty tech; we are more than 86,000 people across 150 countries and five continents. Our house of 36 brands is divided into four divisions: Luxe, Consumer Products, Active Cosmetics and Professional Products. L'Oreal Hong Kong was founded in 1983 as a subsidiary of the L'Oreal Group. 
Life at our Hong Kong Office 
Does a harbour view while having a cup of coffee inspire you? Our Hong Kong office has you covered! Enjoy our flex-work scheme, open office, sea views and more!  
We invest in you 
We invest as much into developing our people as our products. We'll help you grow professionally and personally through classroom training, e-learning and international seminars.  
We support and care 
We care about making the world a better place. Be it our people's wellbeing or giving back to our communities. You and your family will be supported with our flexi-benefit scheme, and we're committed to a sustainable future by creating projects that meet social needs.  
Management Trainee Program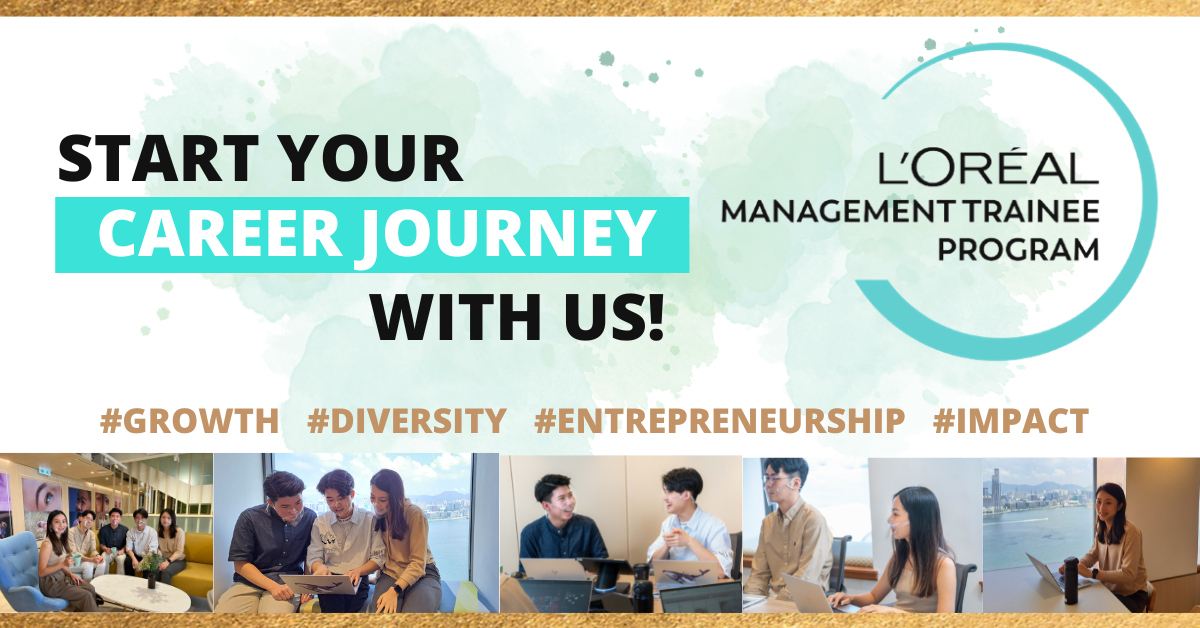 Kick-start your career through 1-year of intense learning with our 2023 Management Trainee Program in Hong Kong! 
At L'Oréal, we move fast and stay on top of our game. The scope and scale of what we strive to do for our consumers drives us to experiment, push boundaries, learn from set-backs and constantly grow.
Our Management Trainee Program is designed to nurture and develop future leaders for the Group. You will have a personalized learning & development track, be leading challenging projects that requires exceptional entrepreneurial spirit and be able to make an impact with the opportunity for rapid career growth.
You will get hands-on experience of the inner workings of a truly diverse, global-leading company.
Are you ready to collaborate with some of the most passionate and innovative people?
Come build the future of beauty tech with us.
To apply, submit your CV online and include a two-minute video in English that addresses the questions below:  
Why L'Oreal? 


What would you like to accomplish in three years at L'Oreal? 


"If you can dream it, you can achieve it" - what's one dream you have turned in to reality? 


Hong Kong 2023 Full-time Internship July Intake
We position our full-time internship as the training ground for our Management Trainee Program, by offering intern specific training and networking opportunities. We believe in providing young talents like you, an opportunity to gain real work experience and get a taste of leading projects and gaining insights by working with the specialists of the industry.
Are you ready to take on a journey that challenges you to be more open-minded and innovative? Join our 2023 July full-time internship!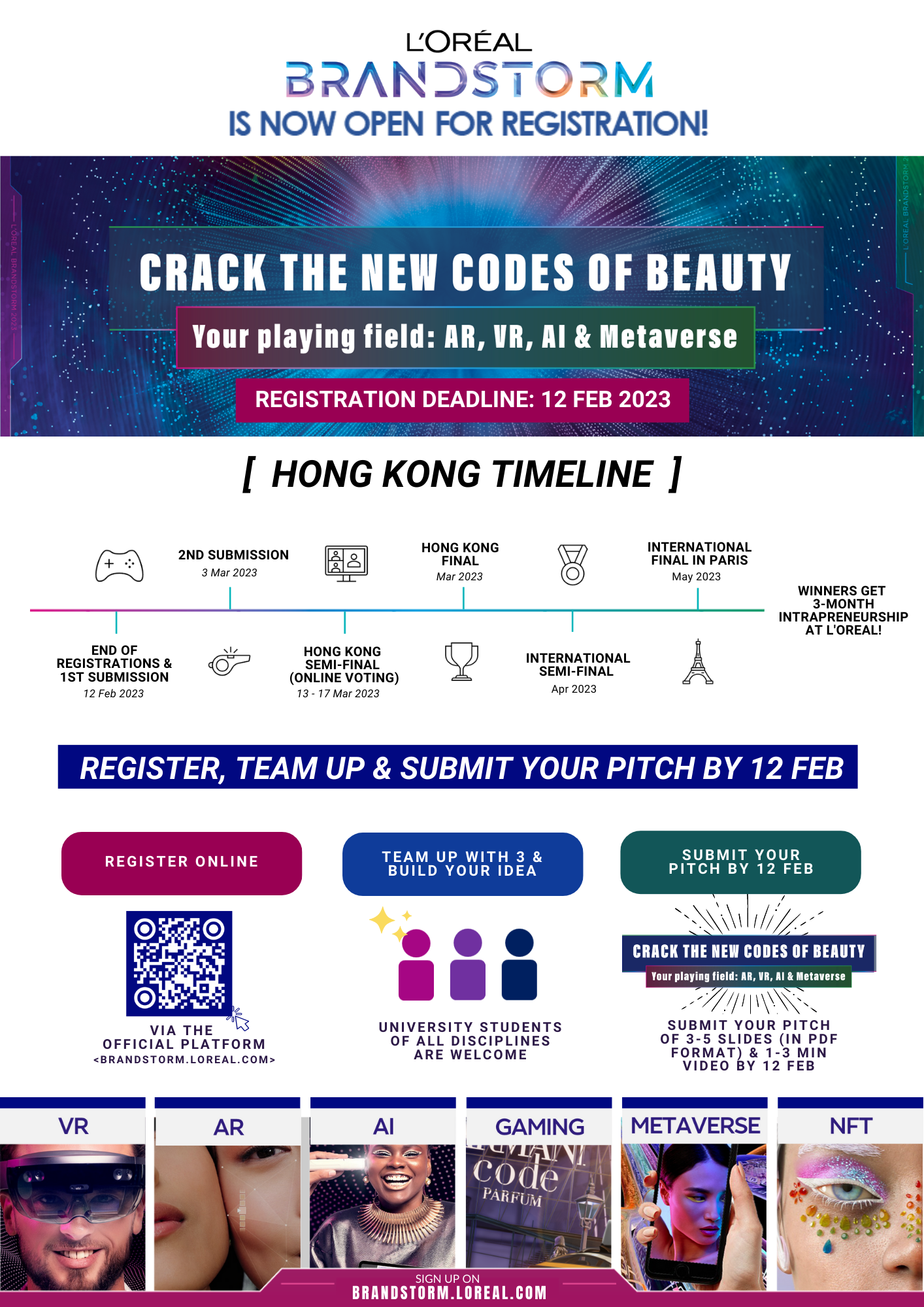 Brandstorm is our Global Annual Business Game for University students (graduated and/or undergraduates under 30 yo) of all majors to experience and innovate within the beauty industry. If you are eager to fuel & explore opportunities for beauty that are unlocked by new technologies, we invite you to sign up now!
The 2023 Brandstorm Mission: Crack the New Codes of Beauty
Your playing field: AR🎮, VR👾, AI🤖 & Metaverse💻
What's in it for you?
Enjoy an INTERNATIONAL EXPERIENCE & work on a real L'Oréal business case
Get FAST TRACKED to our Management Trainee / Internship Program in Hong Kong
Boost your professional skills through a FULL LEARNING PATH
DISCOVER L'Oréal culture, career opportunities and connect with our recruiters
Win an Intrapreneurship mission with L'Oréal experts in PARIS
What's more?
All Brandstorm particiapants will get full access to an exclusive learning platform provided by SALESFORCE!
The winning team of Hong Kong will get an opportunity to take part in a 4 WEEKS HACKATHON with experts and design a prototype!
Sign up now to kickstart your Web 3.0 expedition our official Brandstorm site: BRANDSTORM.LOREAL.COM
Sustainability  
Sustainability is embedded into everything we do at L'Oreal. From innovation, production, to the way we source. Sustainability is at out our core. We aim to have improved 100% of our products environmental or social profile through initiatives like reducing environmental footprint formulas, sustainable sourcing policy for raw materials, committing to zero deforestation and using eco-designed packaging.  
L'Oreal Citizen 
Since 2010, Citizen Day has allowed our people to commit a full day of their work to supporting a not-for-profit social or environmental organisation. In 2020, we volunteered 19,000 hours, donated 315,000 euros to non-profit organisations across 7 countries and supported 275 organisations in 24 countries.  
Diversity & Inclusion

At L'Oreal, we look for great people in unexpected places. And we look for those who have different mindsets, backgrounds and experiences so we can do great things together. The beauty we find in our differences is the power that makes us stronger.  
At L'Oréal Groupe, we create the beauty that moves the world
MT 2023 - L'Oréal