HSBC Graduate Jobs & Internships
HSBC is one of the world's largest banking and financial services organisations. Our global businesses serve more than 40 million customers worldwide through a network that covers 64 countries and territories.
Past HSBC Graduate Hiring Statistics
If you're interested in working at HSBC, understanding when they have opened up applications for their graduate programs, graduate jobs and internships is helpful knowledge to have so you know when you might need to apply. Use the below information to see when HSBC hires graduates, but more importantly what graduate degree's and other student attributes they target for their jobs.
---
Job types
Graduate Jobs (63%),

Internships (37%),
Disciplines
Accounting (100%),

Administration (100%),

Agriculture (100%),

Architecture (100%),

Actuary (100%),
Work rights
Hong Kong Citizen (97%),

Hong Kong Permanent Resident (97%),

Hong Kong Student Visa (60%),

Hong Kong Work Permit (60%),

Other (60%),
Working at HSBC
HSBC is one of the world's largest banking and financial services organisations. We serve more than 40 million customers through our three Global Businesses: Commercial Banking, Global Banking and Markets, and Wealth and Personal Banking. Our network covers 64 countries and territories, in Europe, Asia, the Middle East and Africa, North America and Latin America.
Find out more about HSBC in Hong Kong
We are looking for people who are ambitious about making a strong contribution to HSBC's long-term sustainable growth – whether you are dealing directly with clients or working in a role supporting the business, such as technology, legal or communications.
With market-competitive benefits, we offer you the opportunity to develop a fulfilling career within a supportive and inclusive environment. To ensure we achieve growth in the right way, we place great emphasis on our values – open, dependable and connected - and are committed to applying the highest standards everywhere we do business.
We want all employees to feel able to act with integrity, speak up for what is right and feel proud of working here.
As our international network covers 64 countries and territories, you will have the opportunity to build connections with colleagues and customers worldwide. Diversity is at the heart of our business. We aim to create an environment where everyone can achieve their full potential, regardless of their background. We also have seven global employee networks to promote a diverse and inclusive culture within the bank. Find out more about Diversity and Inclusion at HSBC.
Find out more about a career at HSBC
We offer many opportunities across our three Global Businesses, as well as in our operational and support functions such as compliance and risk management, legal, technology, HR, finance, marketing, IT and communications.
Commercial Banking has a global reach and provides millions of domestic and international businesses with a full range of banking services. Our customers range from small and medium-sized firms focused primarily on their domestic and international markets, through to large companies operating globally. Our services include working capital, term loans, payment services and international trade facilitation.
Wealth and Personal Banking helps millions of customers across the world to manage, protect and grow their wealth. We offer a range of services from personal and private banking, insurance, mortgages and loans, to investment, asset management, savings and wealth management products to support individuals, families, business owners, investors and entrepreneurs around the world.
Global Banking and Markets provides a comprehensive range of financial services and products to corporates, governments and institutions worldwide, offering clients geographic reach and deep local knowledge. Our product specialists deliver transaction banking, financing, advisory, capital markets and risk management services.
Global Functions play a vital role in supporting the bank's Global Businesses and offer a broad range of career opportunities in areas from legal, risk and finance to human resources, sustainability, marketing and communications.
HSBC Operations, Services and Technology teams form the engine that drives HSBC, making the bank simpler, better and faster for our customers and colleagues. Its wide-ranging coverage includes areas such as software and application development, managing IT systems, infrastructure and support, running customer operations and major strategic transformation and change programmes, as well as providing professional services such as procurement and real estate management.
Students and Graduates Programmes
HSBC
---
Start your career
We offer a range of opportunities for students and graduates, from work experience and apprenticeships to local and global internships and graduate programmes, and entry-level positions. We look for candidates who are motivated, curious, courageous, collaborative and dedicated.
We welcome talented students and graduates from all disciplines of study, who are keen to start their career in financial services and who represent and can relate to our diverse customer base around the world. We employ, develop and promote employees based on merit and aim to provide a supportive and inclusive working environment, where everyone can be themselves and achieve their potential.
Wherever you join us, we will provide the support, tools and opportunities for you to develop and thrive. As part of your personal development, we encourage all of our students and graduates to contribute to the commitments within our sustainability strategy.
Global internships
Our internships in Hong Kong give you first-hand working experience of a particular area of the business, as well as what a career at HSBC is like. Lasting 8-10 weeks over June – August, these internships exist in our three Global Businesses. From time-to-time, we may also run 'off-cycle' internships over February – March, mainly in Global Banking. These internships offer a direct path for successful interns in to our global graduate programmes the following year, and are the main pipeline for our full-time graduate placements.
Explore our global internships
Global Graduate Programmes
We welcome final year students and graduates, who will bring fresh perspectives and knowledge across our three lines of business, and technology and operations teams. Our programmes are designed to challenge and stretch you, providing in depth working knowledge and experience in a specific area of the business. You will gain the technical and soft skills required to progress your career at the bank and directly contribute to HSBC's continuing success.
Explore our global graduate programmes
Local Programmes
Our local student programmes in Hong Kong provide university undergraduates a great opportunity to gain longer term work experience in a global bank. These, in turn, could lead to one of our global internships or global graduate programmes, or an entry-level position in the business. Based in one of our global businesses, global functions or our global Technology team, we offer exciting placements ranging from eight to twelve weeks through to six and twelve months.
Co-operative programme
Apprenticeship
Industrial placement (Technology only)


If you prefer to gain full-time employment in an entry level role at HSBC, our Contact Centre Business offers a great opportunity to join the financial services industry. We provide a continuous learning environment, which comprises of specialist training and tailored development programmes. We offer market-leading benefits including flexible working, medical plans, birthday and volunteering leave, as well as staff mortgages. Find out more and apply now.
Search and apply for one of our current job opportunities in Hong Kong.
Meet our Global Graduates
HSBC
---
Meet our People:
---
Hetoon
Commercial Banking Graduate Programme
Dupe
Global Asset Management Graduate Programme
Sunny
Technology Graduate Programme
Adrian
Global Private Banking Graduate Programme
Payal
Transformation Services Graduate Programme
Nieves
Global Operations Graduate Programme
Jennifer
Markets Securities Services Graduate Programme
Ines
Global Banking Graduate Programme
Ian
Wealth and Personal Banking Graduate Programme
---
Learn more about the experiences and careers of some of our other employees around the world.
Awards and Recognition
HSBC
---
No. 2 Most Attractive Employer in Hong Kong – by Business/ Commerce Students (Universum 2020)
No. 36 World's Most Attractive Employer – by Business Students (Universum 2020)
Global Bank of the Year for Diversity & Inclusion; Best CSR/ESG/D&I Thought Leadership Campaign (TMI Treasury4Good Awards 2019)
Times Top 100 (UK) Employers awards 2020 : #14 overall. #1 in Financial Services. #3 in Investment Banking.
Top Global Employer – HSBC (Stonewall Top Global employers 2020)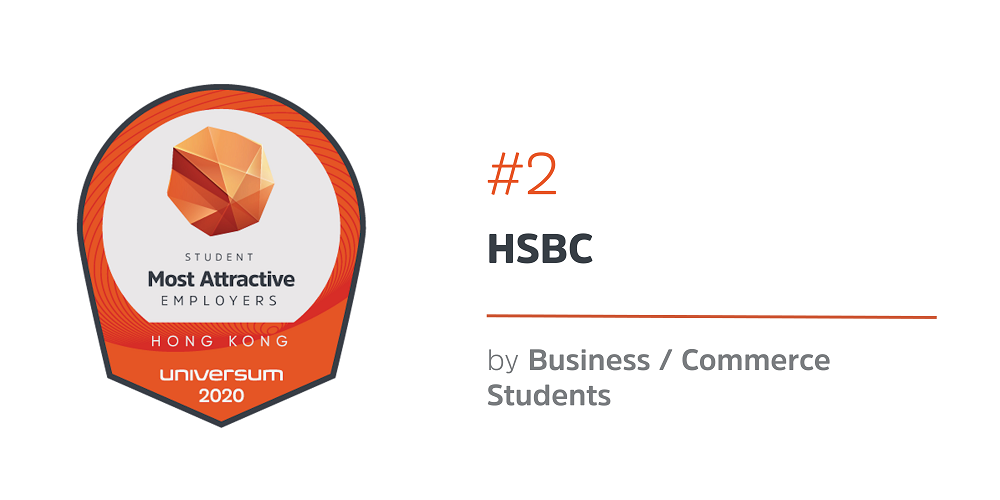 Explore some of our recent awards and recognitions.
We help serve the needs of a changing world.
Sustainability means building our business for the long term by balancing social, environmental and economic considerations in the decisions we make. This enables us to foster growth, which is both sustainable and commercially viable.
Since its foundation in 1865, HSBC has adapted to and helped serve the needs of a changing world. It has financed economic growth, fostered international trade and overcome events such as economic crises. We recognise our wider commitments to the communities in which we operate and understand that economic growth must also be sustainable.
Now more than ever, there is a need to develop the skills, business innovation and low-carbon solutions needed to secure long-term prosperity for all. For HSBC, these are the key elements of sustainable growth, which we can influence.
Providing USD100 billion of financing and investments by 2025 to develop clean energy, lower-carbon technologies, and projects that contribute to the delivery of the Paris Climate agreement and the UN SDGs
Sustainable finance
As one of the world's largest banking and financial services organisations, HSBC aspires to be a leading global partner in the transition to a low-carbon future.
Operations
We are committed to cutting our annual carbon emissions from 3.5 tonnes per employee in 2011 to 2.0 tonnes by the end of 2020. Carbon emissions per employee in 2019 were 2.26 tonnes, thanks to the support of our employees and suppliers.
Communities
We work with leading charities to support projects with a focus on education, the environment and health. We aim to help young people reach their potential through access to education and entrepreneurship.
Find out more about Sustainability at HSBC.