Hang Seng Co-op Programme

We are Hong Kong's leading domestic bank. This strong local identity gives our people a powerful sense of pride, purpose and belonging. Join us and you too can become a valuable member of our proudly local team. We welcome all university students from different disciplines to join our Winter Co-op Programme.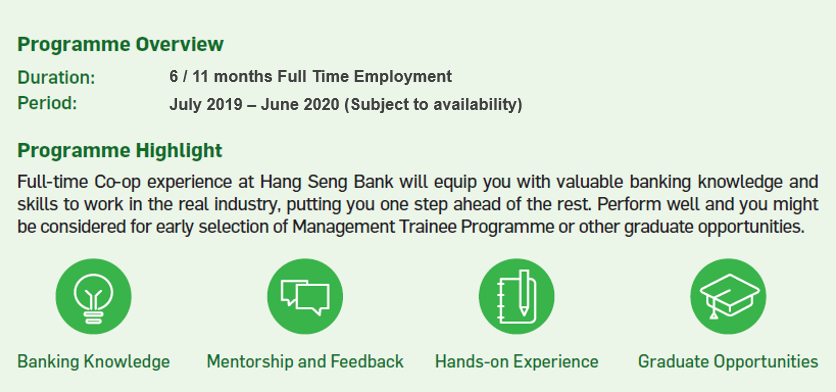 There should be careful consideration before application submission as this full-time programme requires successful candidates to suspend university studies. Last minute withdrawal will not be accepted.
Internship Streams
Audit: Provide independent, objective assurance to management and the Audit Committee over the risk management, governance and control enhancement recommendations for IT, General Banking Operation, and Retail Banking and Wealth Management functions.
Commercial Banking: Provide customized financial solutions to a full spectrum of business customers, ranging from small to medium-sized enterprises (SMEs) to large corporations. You will gain valuable relationship management support and product development knowledge.
Corporate Sustainability: Participate in managing the Bank's community investment programmes, staff volunteer activities and corporate responsibility reporting that help enhance social and environmental well-being across the Bank's global footprints.
Financial Control: Work as accountants and business partners in providing financial management, planning, reporting and compliance. You may also gain exposure in shareholders, regulators and external examiners engagement initiatives.
Financial Crime Compliance: Manage financial crime risk by conducting impact analysis of regulatory changes, providing advice to all businesses, driving regional coordination and execution of various compliance projects and assurance tasks.
Global Banking and Markets: Provide tailored financial solutions and relationship management support to major corporate and institutional clients, including corporate lending, structured products, and interest rates, foreign exchange and derivatives trading.
Investment Services: Offer a full spectrum of investment products and services to both private and corporate investors. Our customers can invest in over 400 investment funds managed by reputable international fund houses.
Legal: Provide professional and proactive commercial advice to facilitate our businesses. You will participate in managing risks and protect the integrity and reputation of the Bank.
Marketing: Formulate and implement marketing strategies to build the brand of Hang Seng Bank, work as business partners to acquire and strengthen customer loyalties, and govern the marketing practices across businesses to ensure alignment to the Bank's corporate image.
Operations, Services and Technology: Participate in a professional service delivery team in facilitating the execution of seamless bank operations, IT strategies, and business transformation activities to mitigate risks.
Retail Banking and Wealth Management: We serve over half of the adult population, focusing on consumer assets and wealth management product solutions, retail distribution and proposition strategies. Our one-stop wealth management initiatives are designed for both our affluent and mass integrated account customers.
Risk and Compliance: Maintain a well-balanced risk profile for the Bank while enabling businesses to thrive. You will actively develop and implement robust and customized risk management frameworks.
Strategic Planning and Corporate Development: Our professional Business Strategists are dedicated to formulating Hang Seng Bank's strategies and development plans, and providing recommendations to senior management and supporting strategic business opportunities.
For more detail of our Co-op programme, please visit website at https://bank.hangseng.com/1/2/about-us/careers/internship-opportunities/internship-co-op
28-01-2019
Job type:Internships
Disciplines:

Accounting, Administration, Actuary, Banking and Finance,

...

Workrights:

Hong Kong Work Permit, Other,

...

Locations:
Closing Date:15th Apr 2019, 3:59 pm
Search
Enter an employer or university you want to find in our search bar.