Crédit Agricole CIB Graduate Jobs & Internships
About Crédit Agricole Corporate and Investment Bank (Crédit Agricole CIB)
Crédit Agricole CIB is the corporate and investment banking arm of Crédit Agricole Group, the 12th largest banking group worldwide in terms of tier 1 capital (The Banker, July 2021). Nearly 8,600 employees across Europe, the Americas, Asia-Pacific, the Middle East and Africa support the Bank's clients, meeting their financial needs throughout the world. Crédit Agricole CIB offers its lar…
View more
About Crédit Agricole Corporate and Investment Bank (Crédit Agricole CIB)
Crédit Agricole CIB is the corporate and investment banking arm of Credit Agricole Group, the 10th largest banking group worldwide in terms of balance sheet size (The Banker, July 2022). More than 8,900 employees across Europe, the Americas, Asia-Pacific, the Middle East and Africa support the Bank's clients, meeting their financial needs throughout the world. Crédit Agricole CIB offers its large corporate and institutional clients a range of products and services in capital markets activities, investment banking, structured finance, commercial banking and international trade. The Bank is a pioneer in the area of climate finance, and is currently a market leader in this segment with a complete offer for all its clients.
For more information, please visit www.ca-cib.com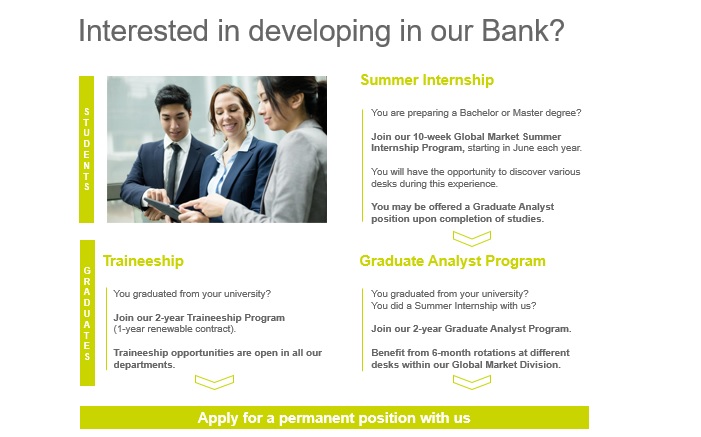 Young people are central to our recruitment policy. Our active presence with students and young graduates helps them to find out about professions in banking. We are looking for dynamic, curious and motivated applicants. The diversity of our business activities leads us to recruit students and young graduates with varied experience and career paths.
For those who have already graduated with their Bachelor or Master degree with less than 12 months of experiences, we offer Trainee opportunities across Front Office and Support Functions throughout the year. It is a great chance to gain in-depth experience and knowledge of our Business, as well as to build network with industry professionals. The Trainee program will start off with a 12-month contract first with possibilities of extension up to 24 months. Successful Trainees may be offered a permanent contract after the program ends.
Internship and Graduate Program
For students who are interested in our Global Markets business, we offer a 10-week program between June to August. This internship program aims to provide a platform for students to understand CACIB and our Global Markets business. By offering a real world experience to work inside the Trading Floor, students will gain insights and exposure through the 10-week program and also explore their interests and develop professional skills and competencies.
Interns will be rotated to different desks during the 10-week program and they will gain a more comprehensive understanding about our GMD teams and products.
Successful Interns will be offered a Graduate Analyst position after completion of studies. The Graduate Analyst program is a 2-year program with four 6-month rotations in different desks within our Global Markets Division.
The application period for Summer Internship will start from around October.
An impressive range of professions
Whether you are a student, young graduate or experienced professional, we offer you a stimulating work environment in which you can develop a range of expertise sets.
An international environment
We are based in over 30 countries around the world and staffed by over 100 nationalities. The international dimension of our business activities and the diverse backgrounds of our employees are our key assets.
Leadership positions
The excellence of our specialists is recognised in numerous fields internationally. Joining us means becoming part of a worldwide network of expertise that ranks among the most advanced on the market. Among our achievements, we are the 1st issuer of Green, Social and Sustainability Bonds (Bloomberg).
Career management strategy
The career management of our employees is our priority. From training and professional mobility to talent management, our policies help you to develop your potential.
Committed and responsible teams
The commitment of our employees is resolutely focused on our clients, the aim being to develop a sustainable economy. The fight against global warming is a key component in our CSR policy.
Stay tuned for our next events!