Adidas Graduate Programs & Internships
At adidas, we believe that through sport we have the power to change lives. Adidas is a global leader in the sporting goods industry, offering a broad portfolio of footwear, apparel and hardware for sport and lifestyle around the core brands adidas and Reebok.
adidas has its roots in Germany but we are a truly global company. Around the world we employ over 57,000 people. Employees from about 100 nations are working at our global HQ in Herzogenaurach, Germany – the 'World of Sports'. Every year we produce over 900 million sports and sports lifestyle products with independent manufacturing partners worldwide. In 2018 we generated sales of € 21.915 billion. These numbers alone can easily suggest that adidas is quite a large and also multifaceted organization. True. But we keep things simple, lean and fast. And we will use this approach now to give an overview of what our company is all about.
To start with – here are some more interesting facts and figures.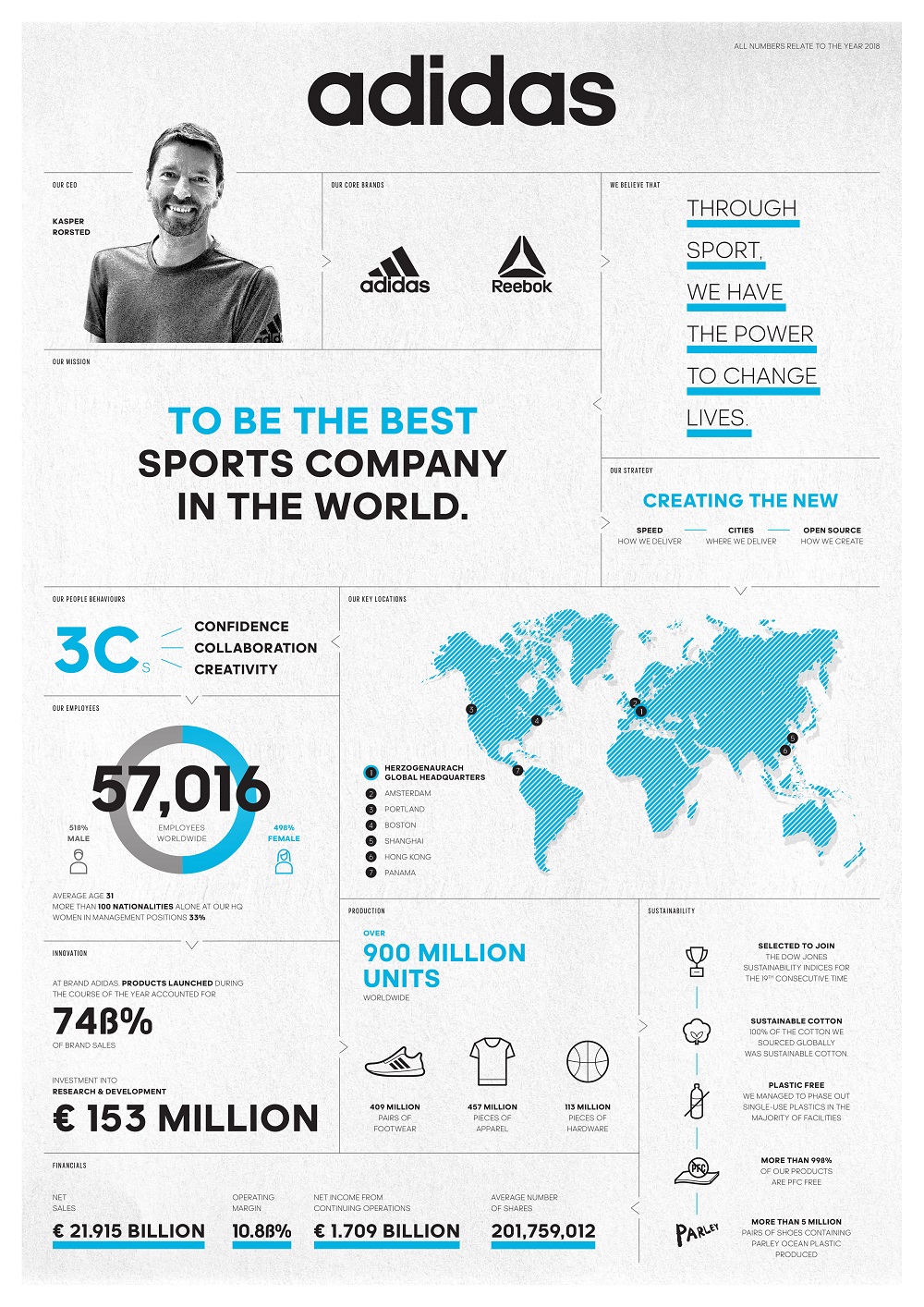 The adidas brand has a long history and deep-rooted connection with sport. Everything we do is rooted in sport. This is what 'The Badge of Sport' stands for as a brand mark. Our broad and diverse sports portfolio, from major global sports such as football and running, to regional heartbeat sports such as American football and rugby, has enabled the brand to transcend cultures and become one of the most recognized and iconic global brands, on and off the field of play.

The adidas brand's mission is to be the best sports brand in the world, by designing, building and selling the best sports products in the world, with the best service and experience.



Reebok is an American-inspired global brand with a deep fitness heritage and a clear mission: To be the best fitness brand in the world. Not an easy one. But if there is one brand that can make it happen, it is Reebok, the brand that was fundamentally part of a fitness movement that forever changed the way we look at spandex and headbands.

The past years have been characterized by a transformation from traditional sports to fitness. The three sides of the Reebok Delta, a symbol of change and transformation, represent the physical, mental and social changes that occur when individuals embrace the challenge of bettering themselves in the gym, in their lives and in the world.
As one of the fastest growing markets, Asia Pacific has been a key growth and profitability driver for our company. To plan the future bench strength for Asia Pacific, we are launching the APAC Trainee Program to provide young talents the platform to grow as individuals and as future employees.

What Support will I get?
During the program you will be supported by a mentor, a line manager of your department, and the HR department. Your roadmap is the result of a close collaborative effort. You will get to spend 1-2 weeks in one of our adidas stores, and we will offer interesting Training & Development courses throughout the duration of this experience.
What will I be doing?
The change of department every six months offers the opportunity to get to know various departments, work in multinational teams, and develop detailed specialist knowledge while establishing an extensive network. If performance during the program is exceptional, will be delighted to help you secure a challenging entry-level position.
Who are we looking for?
We are looking for young talent who can bring fresh perspectives, innovative solutions and who enjoy working in a creative climate to shape the future of sport.
University degree (Bachelor/Master) with a strong academic record
Practical experience (0-12 months)
Passion for sport
Mobile & International mindset
Excellent communication skills in English (written / verbally)
Living the 3cs (creativity, confidence, collaboration)

The program is available in these listed locations. Recruitment season is different from location to location - please stay tuned:
Mainland China (based in Shanghai)
Taiwan, China
Japan (based in Tokyo)
South Korea (based in Seoul)
South East Asia (based in Singapore)
Hong Kong Internship Program
Ever wonder what an internship at a Headquarter location looks like? Here is the opportunity! With Hong Kong being the Headquarters for our Global Sourcing Function, we are hiring young talents to join our Internship program. Come join us and explore all the fun and learnings with us!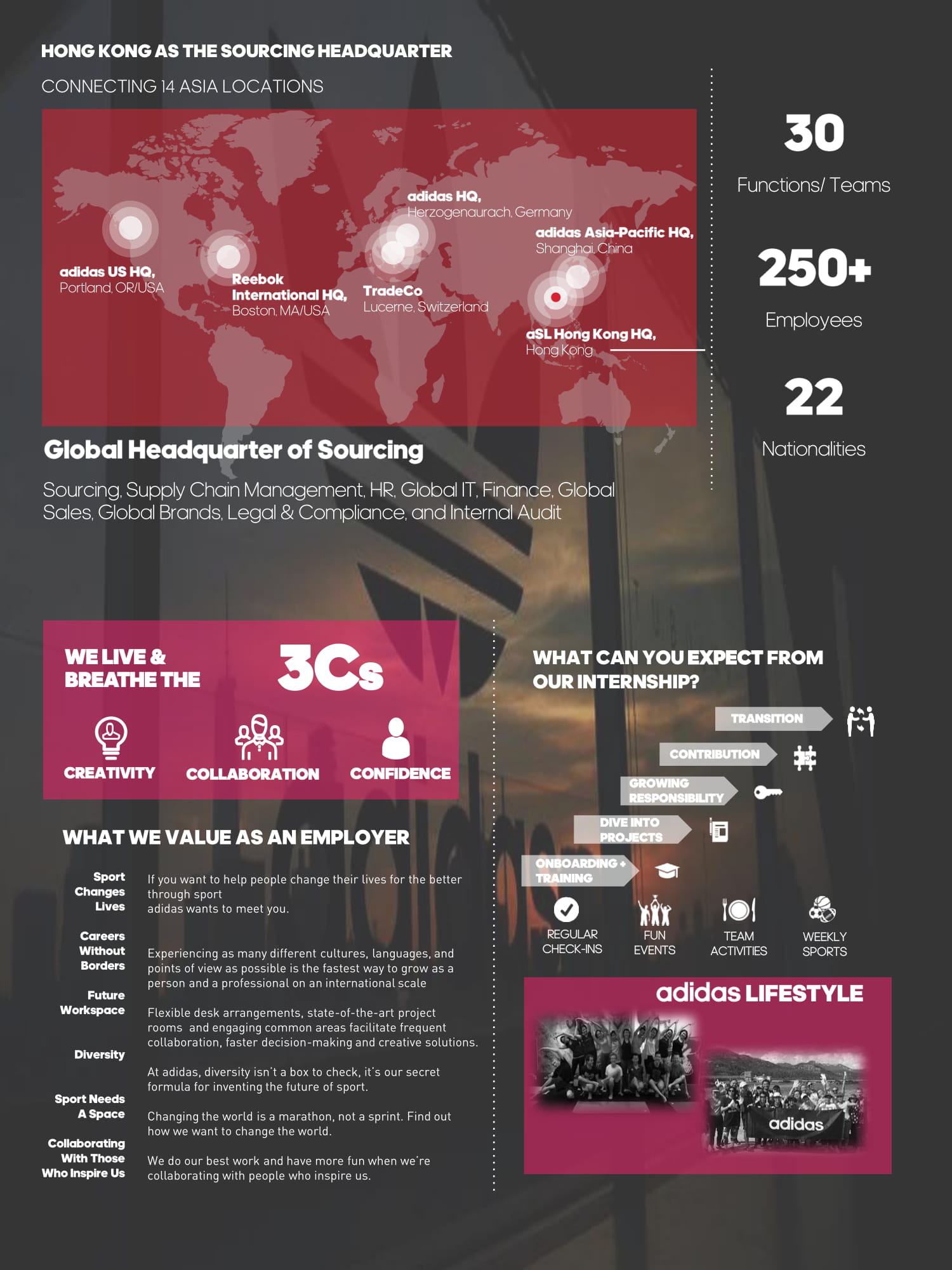 The Key to Success
We believe that our people are the key to the company's success. We have great talents in our organization who work with passion for sports and our brands. It is our people that bring our strategy to life and make the difference in achieving our long-term goals.
A Glimpse of adidas Sustainability
#RunForTheOcean