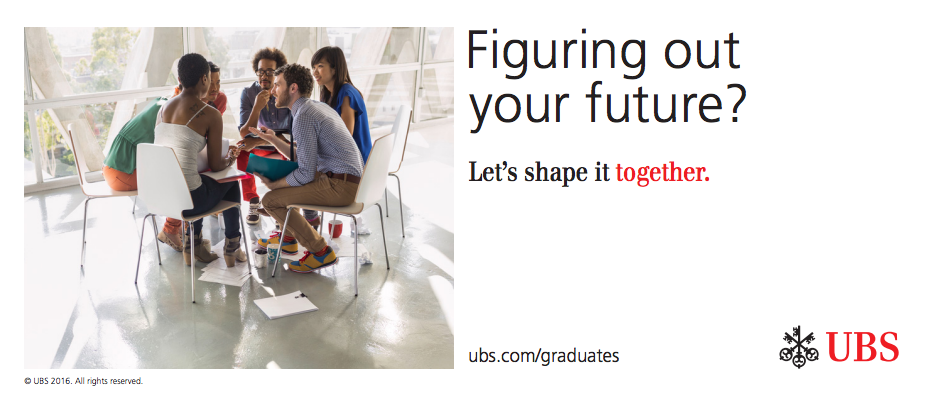 Your application
Take the next step
Are you truly collaborative? Succeeding at UBS means respecting, understanding and trusting colleagues and clients. Challenging others and being challenged in return. Being passionate about what you do. Driving yourself forward, always wanting to do things the right way. Does that sound like you? Then you have the right stuff to join us. Apply now.
Your experience and skills
It doesn't matter what you're studying. (Really, it doesn't.) But we'd like to see evidence that you can:
analyze a problem, take a view and come to a decision
plan, organize and communicate well
make things happen
stick with a task
work in a team
come up with ideas
In addition, you can keep the following timelines in mind when choosing the right program for you:
Graduate Talent Program: Final year students or recent graduates (past 2 years)
Summer Internship: Undergraduates in penultimate year
Please note that
You can only apply for one role within the Asia Pacific region per academic year
You will have to complete an online numerical and logical reasoning test as part of your application process
If you are studying overseas, you will participate in interviews or assessments via
telephone / video conference
Locations
We offer positions in a variety of countries across the Asia Pacific region – you can find all open positions here.
Connect with us
UBS is an Equal Opportunity Employer. We respect and seek to empower each individual and the diverse cultures, perspectives, skills and experiences within our workforce. The key symbol and UBS are among the registered and unregistered trademarks of UBS. Other marks may be trademarks of their respective owners. © UBS 2016. All rights reserved.