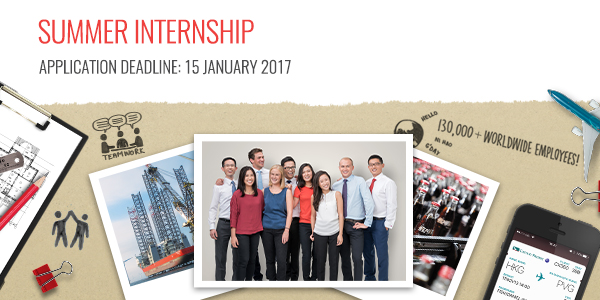 Swire Summer Internship Programme
Swire
---
THE SWIRE SUMMER INTERNSHIP PROGRAMME
Start your career with Swire – a highly diversified global group that has been around for over 200 years.
Our 7-week Summer Internship Programme is an opportunity for highly-driven penultimate students who wish to pursue their future career with Swire. It is where we lay the solid foundation for you to get hands-on-experience and develop your leadership skills.
A perfect way to get a taste of what it's like to work at Swire, you'll have the opportunity to explore within Swire's diversified businesses whilst gaining meaningful exposure to facilitate your own professional and personal development.  
During the internship, you'll be posted to one of Swire's operating companies where you will work in Hong Kong or Mainland China's office on a specific business-related project. Wherever you're posted, you'll be assigned challenging projects designed to equip you with the essential skills and commercial awareness for corporate life. But that's not all, you'll have access to a mentor for guidance and support while providing you with valuable performance feedback throughout your Swire journey.
Come and join the Summer Internship Programme if you are:
Determined and motivated with strong mental agility
Passionate about developing a long-term general management career with Swire
Interested in learning about – and working within – diversified businesses
An undergraduate or postgraduate of any discipline, graduating in 2018
And you have:
An excellent command of written and spoken English, with a credit or above in HKDSE English or HKCEE English (Grade 4), CET Level 6, TEM Level 4, or an equivalent standard
The ability to read and write Chinese will be an advantage
PRC citizenship or Right of Abode in Hong Kong SAR
Not worked full-time for more than 3 years
Apply by 15 January 2017 – this is an exciting and challenging beginning to a fulfilling career.
Your future starts here.