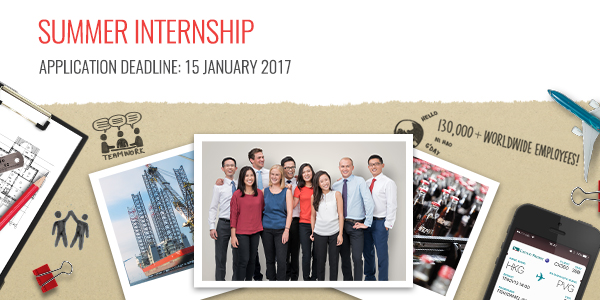 Swire Management Trainee Programme
Swire
---
Join Swire Management Trainee Programme
Choose the best programme for you to begin your development journey that involves on-the-job learning, workshops and group projects to challenge you – everything you need to develop into a future leader. When you join us, we will support you every step of the way.
Group Staff Programme
This three-year training programme sees you develop the crucial skills to pave the way for a successful career. During this programme you could be posted in any one of our divisions such as Property, Aviation, Beverages & Food Chain or Trading & Industrial. Training will take place primarily in Hong Kong, Mainland China and other regions where you'll step outside your comfort zone and take on early responsibility. You'll be working with some of the brightest minds in the business. This programme will accelerate your professional development and you'll have the opportunity to make an impact wherever you're posted.
House Staff Programme
The defining feature of this programme is simple – global mobility. We do business all over the world and our Management Trainees are required to work wherever they're needed and are often seconded at a moment's notice. You could find yourself on assignment in any one of our divisions for 1-2 years but as the House Staff Trainees become more senior, these assignments tend to last 2-3 years, becoming progressively longer the more senior the position. You'll learn to cope with unexpected challenges in unfamiliar surroundings, gain exposure to an extraordinary range of business areas, and build a long-term but highly diverse career in general management.
Applications Close: 20 Nov 2016
Visit swire.com/mt
Summer Internship
Our internship is all about getting hands-on-experience, making this the perfect way to get a taste of what it's like to work here. Over seven weeks you will have the freedom to develop your own talents whilst you learn exactly how our business works. Throughout the internship you will be posted to one of our operating companies including, but not limited to Swire Properties Limited or Cathay Pacific Airways Limited, where you will work in Hong Kong or Mainland China on a specific business-related project. Wherever you're posted, you'll be assigned challenging projects designed to equip you with the essential skills and commercial awareness for corporate life. As well as having the freedom to develop your own talents, you'll have access to a mentor to support and provide you with regular performance feedback throughout the programme. Your future starts here.
Applications for 2017 will commence on 12 Dec 2016.
Find out more at: swire.com/mt