About Us
Mizuho Securities Asia
---
Who We Are?
Mizuho Securities Asia Limited (MHSA) is a subsidiary of Mizuho Securities Co. Ltd (MHSC), the core securities firm in the Mizuho Financial Group (MHFG). MHFG is a Global Fortune 500 firm with subsidiaries and representative offices operating in major financial markets worldwide to meet the needs of our clients globally.
Overseas Network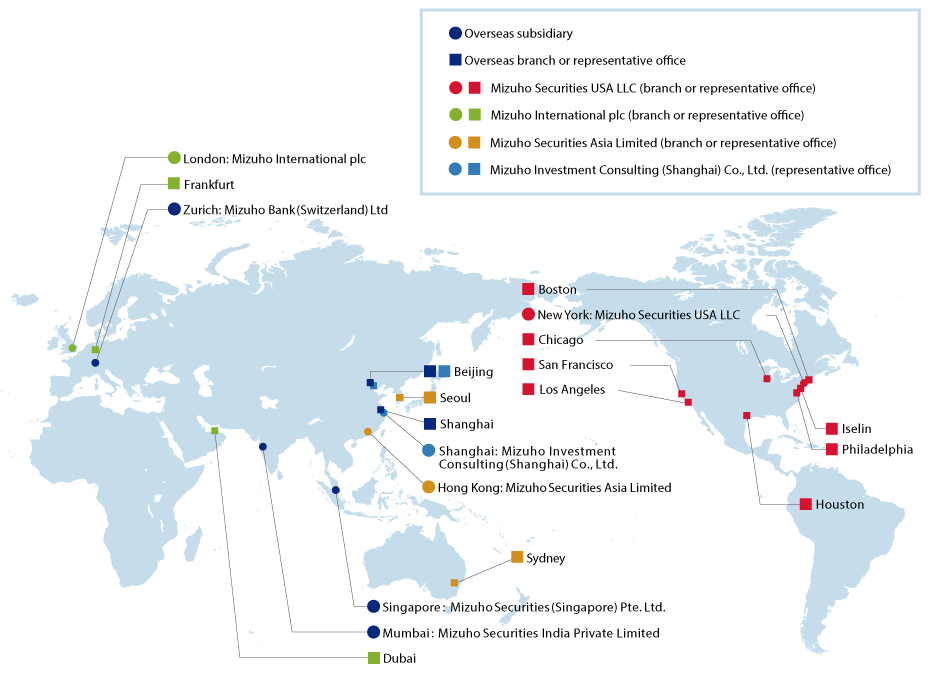 MHSA provides a wide range of financial products and services including Equity & Fixed Income Sales and Trading, Research, Capital Markets Advisory and M&A Advisory. Our clients range from multinational professional investors and funds to financial and government institutions.
Our People
At MHSA, our greatest asset is our people and they are the key to our businesses' success. Similar to our global client base, our people come from diverse backgrounds, and as such MHSA actively promotes a vibrant and supportive environment that values teamwork, diversity and creativity to build and grow our platform across Asia for our people to excel in.
To drive our growth and build upon our success, we are committed to attracting, hiring, retaining, rewarding and promoting the most talented professionals in our field.
Find out more about us: www.mizuho-sc.com/hk