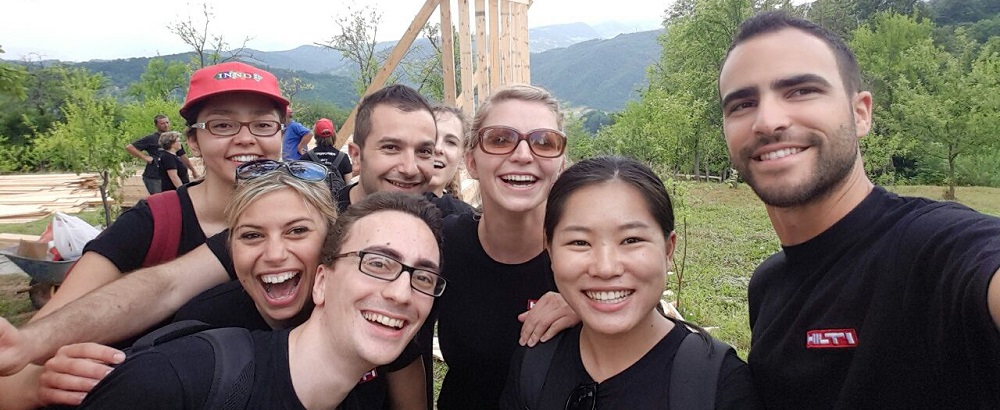 Experience Hilti

World leader, in more than 120 countries on 5 continents, 28,000 team members, business to business direct selling company, 230,000 customer contacts per day, more than 60 innovations per year – That's Hilti.
Hilti in brief
Hilti provides leading-edge technology to the global construction industry. Hilti products, systems and services offer the construction professional innovative solutions with outstanding added value. The headquarters of the Hilti Group are in Schaan in the Principality of Liechtenstein.
Hilti operates in over 120 countries around the world
Some 28,000 employees, in more than 120 countries around the world, enthuse their customers and build a better future. The corporate culture is founded on integrity, courage, teamwork and commitment.
Hilti excels through outstanding innovation, top quality, direct customer relations and effective marketing. Two-thirds of the employees work directly for the customer in sales organizations and in engineering, which means a total of more than 230,000 customer contacts every day. Hilti has its own production plants as well as research and development centers in Europe, Asia and Latin America.
Founded in 1941 in Schaan, principality of Liechtenstein, Hilti supplies the worldwide construction industry with technologically leading products, systems and services that provide construction professionals with innovative solutions and superior added value.
Hilti in Asia Pacific
We have more than 5,000 employees in Asia Pacific.  The production plants are located in China (Zhanjiang & Shanghai).  Sales & Marketing organizations have been set up in China, Japan, Korea, Hong Kong, Taiwan, Australia, New Zealand, India, Singapore, Malaysia, Thailand, Vietnam, Indonesia and Philippines.  The Asian region headquarters are located in Hong Kong.
Hilti – our purpose and values
Our purpose We passionately create enthusiastic customers and build a better future.
Our values The way we do things at Hilti is based on living strong values.  We act with integrity in all we do, we demonstrate courage to go beyond the circle of habits, we outperform through teamwork, and we have commitment to personal and company growth.
Our culture We share a common purpose.  We take self-responsibility for the development of the business, our team and ourselves.  We encourage, coach and support each other to achieve outstanding results.  Our culture is a journey – Our Culture Journey.
Hilti – our People Strategy
We value people.  We have excellent team member.
We expect high performance and we offer high incentives.
We recruit and develop our people based on their competencies, accomplishments and potential.
We give them the chance to grow with us as part of a team and to develop a long-term career within the Hilti Group.
Hilti system solutions
Every tool Hilti develops, produces and brings to market is designed to make life easier for building professionals, in addition to offering them added value.

We are the Best Employer and Caring Company!
Our unique culture and career development opportunities have gained worldwide recognition. Great Place to Work® Institute named Hilti as the 22nd World Best Multinational Workplace in 2016, from among 6,200 participating companies. Being the top-most construction manufacturer to gain this honor underscores our commitment to nurturing the best talents in the industry. In Asia, Hilti has been regionally accredited Aon Hewitt Best Employer in Asia Pacific 2013.