Much has changed for graduate recruitment in Asia over the past year - with both the student movements in Hong Kong and COVID-19 having a profound impact on how graduate recruiters are engaging with students in the region.
On the 8th April GradConnection brought together five experts from the graduate recruitment community to share their insights and ideas for approaching these challenges, and how companies will need to rapidly change their strategies for this year's graduate recruitment cycle.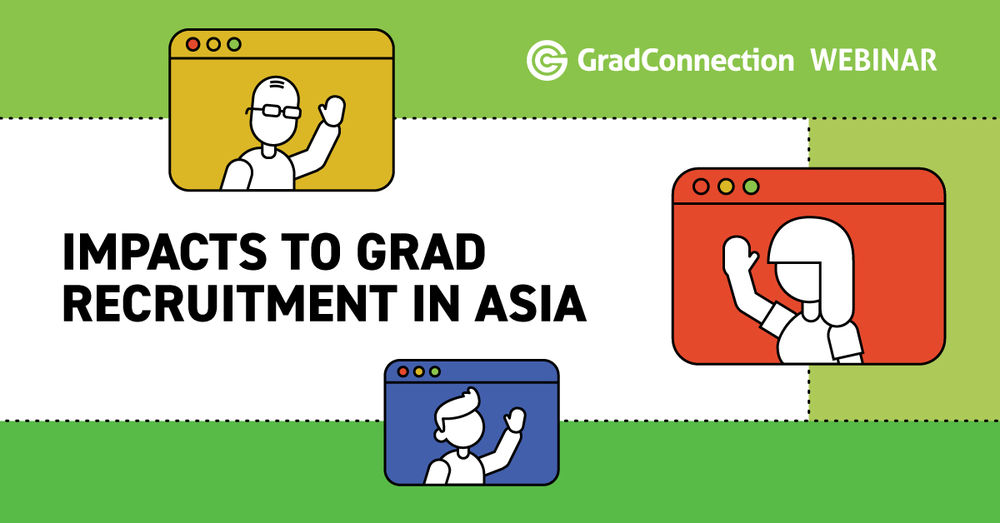 The webinar was a great success, with an active audience contributing several engaging questions to our panelists. Below is a summary of the key insights from the discussions.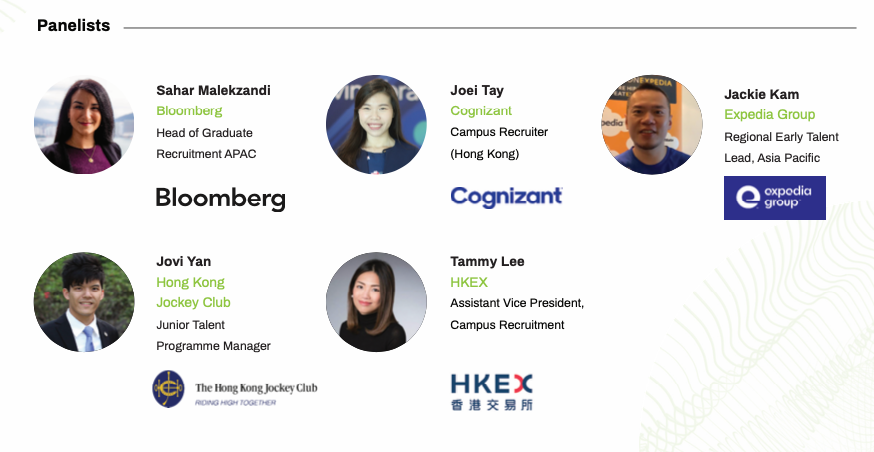 1. How has the student movement and Covid-19 situation impacted your graduate recruitment and how did you interact and engage with students?
Jovi from Hong Kong Jockey Club expressed that although they managed to attend campus talks and host events from August to December last year, they also shifted more focus to online platforms and social media to better engage with local students. With the challenges and uncertainties arisen, they still received a healthy number of applications and this might have to do with students getting used to submitting applications online and other available channels.
Sahar from Bloomberg added that the market situation prompted them to act quickly, change strategy and drive closer collaboration between teams. It was a tough decision whether to continue to meet in person or go virtual. While the career opportunities matter a lot to students, it is equally important to ensure the safety of everyone involved. Though their signature pop-up on campus was cancelled last minute, they moved it in house and received a good turnout. They are glad to see students making extra steps to meet and get involved. What the Hong Kong team has gone through can also inspire other offices who also need to adapt and get creative during Covid-19.
Tammy from Hong Kong Exchange remarked that it is crucial to adapt to change, stay flexible and be creative to get through the situation. They are constantly reviewing the process and making adjustments accordingly to maintain the recruitment cycle so as to provide support to business teams and candidates. Communications were strengthened with emphasis on flexibility and empathy. They stay connected with the universities to keep updated what is going on. During interviews, they will ask candidates how they have been coping with the situation and virtual school before going into the technical questions.
Jackie from Expedia Group shared that safety and health of employees is of top priority. The challenging time has urged the need to go digital in order to stay connected with candidates. As they recruit internationally, some of the campus events like in Australia and Thailand were cancelled. However, the cancellation of campus events is not playing a huge impact because of their strong online presence. More online competitions and webinars were conducted in the past few months to keep the engagement going. Universities around the world are also offering help to employers by organizing virtual career sessions to engage students in a different way.
Joei from Cognizant explained that the main driver to push through recruitment processes lies in maintaining open communication with the business while keeping the pulse of the situation on the ground with candidates and university partners. It also opened an opportunity to explore online platforms and other alternative avenues to reach and assess candidates. 
2. Do you see returnee students less inclined to want to return home to work after the social situation?
Sahar from Bloomberg explained that there was a big hit for technical roles, whereas the application volume of financial and customer centric roles has stayed the same or even grown slightly. They noticed students deferring start dates. There is also a drop in Mainland Chinese candidates applying for roles in the Hong Kong office as well as for Hong Kong students applying to work in their China office.
Joei from Cognizant remarked that the total number of graduate intake in 2019 is on track but the student composition has changed slightly with less applications received from Mainland Chinese students.
3. Bringing events in house - Are there any safety concerns for employees and how can you mitigate the potential risks holding these events?
Sahar from Bloomberg shared they are not too worried about in-house events because they stepped up security measures and worked out a backup plan in case something unexpected happened. Students attending their in-house pop up were generally respectful because they are keen to secure good opportunities. They are more concerned about employees' safety travelling to and participating in events on campus and so have reviewed the situation daily to ensure appropriate actions are taken.
4. How do you promote your employer brand during virtual career fairs?
Joei from Cognizant expressed that universities are paying huge efforts in encouraging students to attend virtual career fairs to engage with employers when physical events are not available. This means more opportunities to conduct talks and activities aside from being online at the virtual fairs. The virtual fairs can also serve as a platform to promote other in-house online events and share content, from latest news to the company's thought leadership and research pieces.
5. What online tools do you use to stay connected with students? Virtual internship is on the rise, will your company follow this practice and how?
Sahar from Bloomberg explained they host webinar sessions to engage with students and noticed content specific webinars are more engaging than the one on general information. Building a microsite with all recorded virtual sessions is effective and economical to promote to candidates. They can also leverage on the content provided by global offices to offer sessions more frequently to keep the engagement with students going. They are going to run virtual internships by splitting up into a series of working groups to ensure every step of the process is managed and reviewed, while offering interns meaningful experience. There are still a few areas they need to look into to make it work, in terms of internship duration, salary amount, performance evaluation. Having a virtual assessment is crucial too. She added that they actually hire a bigger number through virtual assessment centres than physical one.
Jackie from Expedia Group supplemented that networking is also an important element of internship even if it is moved to virtual. They are going to arrange online networking via Bluejeans and make use of chatbots to do matching among interns and selected business teams every two weeks. Interns then need to reach out to the individuals they are matched with and set up a time for catch up. This encourages them to leave their comfort zone and network with different persons in the office via an online platform. While most companies are now going digital in terms of recruitment, attraction and engagement, it is now the time to think about how to make the delivery of the program virtual.
6. How do you manage the internship program with everyone working all over the place, some in the office, while some remotely?
Sahar from Bloomberg explained they work closely with business teams and provide them with a framework as a guide so they can fill in meaningful tasks to ensure a robust program and a consistent experience among interns. They will also assign a buddy or champion as a touch point for interns.
Jackie from Expedia Group added that it is essential to support and work closely with business teams to design a program that can offer a meaningful experience to interns with deliverables. They will set up working groups, assigning interns from different locations to work on a project collectively yet remotely.
Jovi from Hong Kong Jockey Club echoed that having a structured framework or tool will facilitate business teams to come up with a meaningful program for interns. They also make sure both interns and managers in charge can agree on and align the requirements and expectations before the internship starts, while staying flexible to make adjustments to the project scope and timeline. The ultimate goal is to achieve a good balance between deliverables and experience. 
7. Do you still run assessment centres in house or online? If online, any tips to share?
Tammy from Hong Kong Exchange explained they conducted the last assessment centre in house before the Covid-19 situation. Given the uncertainty Covid-19 has brought, they are exploring the idea of online assessment centres more. She appreciates the fact that many vendors and suppliers are actively helping employers to offer solutions.
Jovi from Hong Kong Jockey Club commented that they were forced to move their planned assessment centre in March to online because of Covid-19. As the traditional assessment centre is designed for on-site usage, they reviewed the content and process to make it practical online. For example, they ensured all materials were readable and accessible online without the risk of information leakage. They broke down the whole assessment process into individual tasks so candidates can finish one at a designated time and come back to complete another per schedule. Students could ask questions online and get answered promptly. They have also scaled down the size of group discussion to better fit the online environment. They even conducted two dress rehearsals to ensure the process could be run smoothly in real action.
8. How to leverage on virtual career fairs to engage with students?
Joei from Cognizant expressed that joining career fairs with specific focus allows you to engage with specific streams of students more effectively. For example, if you are hiring tech roles, it might be more effective to attend a tech specific career fair. Online events need to have a specific focus in order to attract and maintain attention.
Tammy from Hong Kong Exchange added that you can have access to students' profiles online which makes it easier to follow up with students after the virtual fair.
9. Are you reviewing your approach to attracting and hiring international students, given the cost associated with that candidate group is a lot higher than hiring locally based students?
Sahar from Bloomberg said their selection of candidates is not based on where they are coming from. They are still hiring international students while reviewing the budget for the rest of the year constantly.
Both Sahar and Jackie agreed that moving internships to virtual is saving costs in some ways.
10. Do you see any silver lining of the Covid-19 situation?
Jackie from Expedia Group believed that the pandemic is a global situation that every company around the world has to face so it drives change within a short turnaround time. The company is working in each and every way to ensure that internships and graduate programmes can embrace the work-from-home practice. He is happy to notice there is increasing involvement from business and leadership teams, putting in extra resources to cope with the situation.
Jovi from Hong Kong Jockey Club added that Covid-19 strengthened collaboration with business teams because it forces everyone to look at the issue together and discuss how to work things out.